Exterior Showers and Plumbing Faucets: The One Item You Shouldn't  Forget To Do Before Winter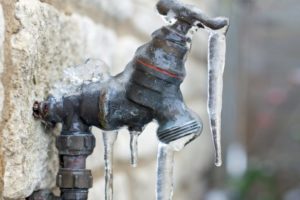 Here are 3 tips on how to manage your outdoor showers, sinks, and plumbing faucet
Most NJ homes have one or more outside faucets or showers. With all outdoor plumbing, it's important to always disconnect your hoses at the end of the season, shut off the inside shut-off valve and drain the exterior plumbing faucet before cold weather sets in. Here in NJ, it's best to do this before or near the end of October. We will help explain the process of winterizing your faucets during our NJ home inspections as an added benefit. Our home inspector will discuss winterizing your outside faucets during our home inspections.
When water freezes in pipes the pipes ice expands and pipes of all makes are prone to splitting open resulting in water damage. Exterior water spigots are very vulnerable to cold, so it's vital to winterize your water faucets for the winter. Here's what you can do to help prevent water damage to your home this winter.
Close the shut-off valve for the faucet
From the inside of your home, close the shut-off valve that controls the flow of water to the outdoor faucet(s).  These valves can be found in the basement, crawlspace, or even under sinks.
Disconnect your hoses.
This simple task will prevent many instances of frozen pipes. Leaving a frozen, water-filled hose attached to the outdoor faucet is asking for trouble! Disconnect your garden hoses, drain them and hang them up for the winter.
Drain the faucet and shower
Lastly, open the faucet and let any remaining water drain out of the pipe. This step is vital because standing water between the shut-off valve and the outdoor spigot can freeze or damage pipes. If you have exterior drains for items like an outdoor shower or bar sink, make sure you pour some environmentally safe antifreeze in the drain so it will not freeze.
If you're not sure what to do, give us a call and we'll walk you through it.
This video link will also show how to do it yourself  https://youtu.be/gKoQHqVwxrA
As added protection, we also suggest insulating all pipes that are vulnerable to freezing, especially ones located in basements, crawlspaces, attics, and garages. Sealing all gaps around the exterior can also help prevent cold air infiltration around wall openings.